Episode 1 – Fiona Rogers on The Physio Detective and The Physio Down There Podcast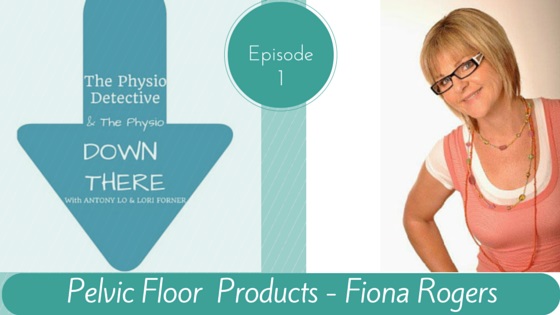 Here is our first episode!! Fiona Rogers explains some of the women's health products she sells in her online business called Pelvic Floor Exercise.
Below the description Lori has provided is the podcast...make sure you subscribe on iTunes or Soundcloud or Stitcher.
Use the contact form on this page to let us know what topics you would like to hear more on please!
The following text was written by Lori Forner and can be found here
In this episode #001, our very first interview episode, we were blessed to have Fiona Rogers join us. Not only is she an established pelvic floor physiotherapist in Queensland, Australia, she integrates this with her sports physiotherapy background and co-owns one of the leading pelvic floor product online distribution store. She shares her clincial tips on some of the top products she sells, as well as gives us insight into her new upcoming business venture in hosting educational courses for physiotherapists.

Hope you enjoy the show!

Stick with me as I work my around the IT part of podcasts. If things are not where they should be, the sound quality is off at times or you get lost, email me and let me know and I will work it all out in due time.

Don't forget to send your questions or topics into either Antony or myself, as well as subscribe to the podcast and leave us a review in iTunes (I will link that to make it easier in the near future).

The episdoes will be available in iTunes, Stitcher and Soundcloud.

Links mentioned in the show (click on them to be directed to that link):

Products

Social

Pelvic Floor Exercise presents Michelle Lyons Down Under - Course Registration Oct/Nov 2015

Women's Health Physiotherapy Facebook page

Men's Health Physiotherapy FB page

Australian Continence and Women's Health FB page

Women's Health &Fitness Summit 2015

Sports & Spinal PHysio - Fiona

Research

Frawley, et al. "Reliability of pelvic floor muscle strength assessment using different test positions and tools."

Shaw, et al. "Effects of walking speeds and carrying techniques on intra-abdominal pressure in women."

Shaw, et al. "Intra-abdominal pressures during activity in women using an intra-vaginal pressure transducer.

Poppy Trial - "Individualised pelvic floor muscle training in women with pelvic organ prolapse (POPPY): a multicentre randomised controlled trial