Episode 3 – Online Pelvic Health Education on TPDTPDT Podcast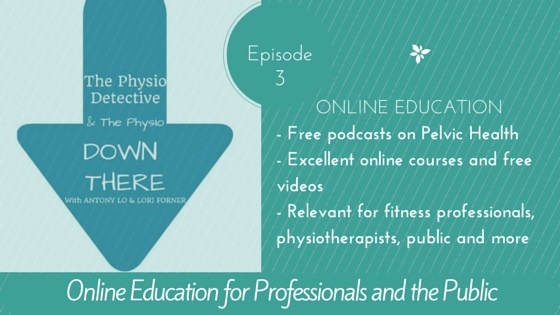 In this episode, Lori Forner fills us in on some of her favourite podcasts and websites which have both paid and free educational content.
Below the description Lori has provided is the podcast...make sure you subscribe on iTunes or Soundcloud or Stitcher.
Use the contact form on this page to let us know what topics you would like to hear more on please!
The following text was written by Lori Forner and can be found here
I am back on my lonesome in this episode as Antony Lo is still off having heaps of fun up in the North.

I decided to discuss some of my favourite sources of online education for the public, physiotherapists, fitness professionals and other health professionals. This, of course, also includes some of my favourite podcasts I listen to myself.

Enjoy!

Don't forget to send your questions or topics into either Antony or myself, as well as subscribe to the podcast and leave us a review in iTunes (I will link that to make it easier in the near future).

The episdoes are available in iTunes, Stitcher and Soundcloud (click on the underlined word and you will be taken to where you need to be)

Links mentioned in the show (click on them to be directed to that link):

Podcasts

Online Courses and Videos

Julie Wiebe's:

                   The Pelvic Floor Piston: Foundation for Fitness,

                   Female Athletes: Ready for Impact?

Core Stability in the Child with Motor Challenges

Burrell Education with Jenny Burrell

The Women's Health and Nutrition Certification with Jessica Drummond

Other Special Mentions