Episode 4 – Sandy Hilton and Sarah Haag Challenging Beliefs on TPDTPDT Podcast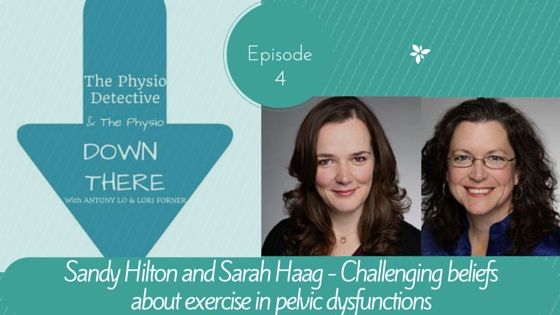 In this episode, We interview Sandy Hilton and Sarah Haag about challenging beliefs about exercise in pelvic dysfunctions. There are a lot of myths and beliefs so we *begin* to start unpacking this topic...there is so much to this topic that I really think we need to have them back on the show to get deeper and deeper into this topic - it is a favourite passion of mine!
Below the description Lori has provided is the podcast...make sure you subscribe on iTunes or Soundcloud or Stitcher.
Use the contact form on this page to let us know what topics you would like to hear more on please!
The following text was written by Lori Forner and can be found here
The Physio Detective is back on board...but he is actually sitting in Chicago with our lovely ladies we interviewed. JEALOUS!!!

We are graciously joined by Sandy Hilton and Sarah Haag of Entropy Physio. They give us insight into their ideas around integrating yoga into patients with pelvic floor dysfunctions and pelvic pain, as well as thoughts around "controversial" exercises and guidelines. They also discuss their recent adventures into organizing and providing outstanding continuing education with leading experts in all fields of physiotherapy out of their Chicago clinic. All information about these upcoming seminars can be found on their website using the links below.

Unfortunately, my editing skills were tested when my software program spat the dummy in the last 10 minutes. So instead of attempting to start all over again, you will notice some of my words are cut off in the end. At least it was my voice and not any of the info Antony, Sandy or Sarah had to share.

I don't doubt we will have these two back on.

Enjoy!

Lori

Don't forget to send your questions or topics into either Antony or myself, as well as subscribe to the podcast and leave us a review in iTunes (I will link that to make it easier in the near future).

The episdoes are available in iTunes, Stitcher and Soundcloud (click on the underlined word and you will be taken to where you need to be)

Links mentioned in the show (click on them to be directed to that link):

Entropy Physio Facebook page for clinic info and for continuing education info

APTA - Section of Women's Health

Pelvic Floor First Guidelines - Resistance exercises, Core exercises, Cardio

NAF Podcast
Pain Science & Sensibility Podcast

Magic Mike XXL (for those wanting to do some more "study" on men's health...wink wink)