Episode 5 – Antony and Lori About Bulletproof Your Bits on TPDTPDT Podcast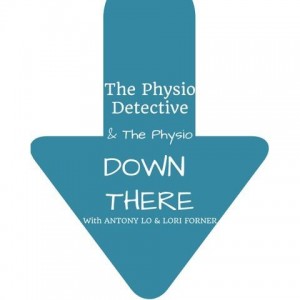 In this episode, Lori and I talk about the Bulletproof Your Core and Pelvic Floor course that we run for people who want to lift and exercise HARD - CrossFitters, Boot Campers, Weight Lifters, Power Lifters etc.
We also discuss the recent discussion on Diastasis Rectus Abdominis that we had on the Women's Health Physiotherapy group on Facebook.
Below the description Lori has provided is the podcast...make sure you subscribe on iTunes or Soundcloud or Stitcher.
Use the contact form on this page to let us know what topics you would like to hear more on please!
The following text was written by Lori Forner and can be found here
It's just Antony and I in this episode chatting about what we have been up to in the last month or so, as well as some of the upcoming seminars that Antony puts on.

No, the seminars are technically not called "Bulletproof your bits" but I do think that would be a great name for them :). He runs a "Bulletproof" your body series, including one with focus on pelvic floor dysfunctions (or prevention of dysfunctions in the world of high intensity exercise and heavy lifting). These seminars with a pelvic floor focus are usually co-instructed with a Continence and Women's Health physiotherapist and are relevant to everyone...coaches, athletes, physios, women, etc. Don't miss him in Mackay very soon and Perth in November. Links are below.

We then dive into some great discussion on DRA (diasasis rectus abdominis) after Antony stirred the pot on the Women's Health Physiotherapy Facebook page (which is technically only for Women's Health physiotherapists). As you will hear, I struggle with this topic personally so we throw out ideas stewing in our brains, which always makes for great generation of clinical reasoning ideas.

Future podcast ideas are discussed but as always, don't forget to send your questions or topics into either Antony or myself, as well as subscribe to the podcast and leave us a review in iTunes.

Enjoy!

Lori

The episdoes are available in iTunes, Stitcher and Soundcloud (click on the underlined word and you will be taken to where you need to be)

Links mentioned in the show (click on them to be directed to that link):

Physiodetective Seminar schedule

#spreadtheload    #tensiontotask

JT & Jimmy Fallon YouTube Hashtag

WHTA - Women's Health Training Associates

Women's Health Physiotherapy Facebook page