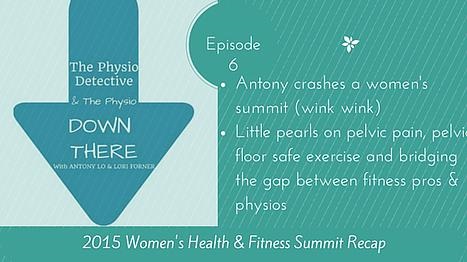 Episode 6 – Antony at #WHFS2015 for The Pelvic Health Podcast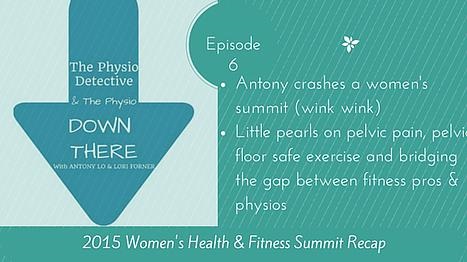 For this episode, I traveled to Melbourne to attend the 2015 Women's Health Summit (#WHFS2015). I was able to interview Michelle Wright (Mishfit) who organised and hosted the Summit as well as many of the speakers and some of the participants.It was a great weekend with lots on offer with a Trade Show and opportunities to catch up with people and make new friends sprinkled throughout the day.
Below is the podcast and the description Lori has provided...make sure you subscribe to the podcast on iTunes or Soundcloud or Stitcher.
Use the contact form on this page to let us know what topics you would like to hear more on please!
The following text was written by Lori Forner and can be found here
First off, watch this space for our podcast name change...it's currently too long. When we figure out what it will be, we will let you all know 🙂

Now, Episode #6.

Antony attends the 2015 Women's Health & Fitness Summit in Melbourne and records his little mini interviews with some great women, and a fellow male mate!

In this episode, you will hear some nice little pearls of wisdom from some great ladies regarding pelvic floor and exercise, pelvic pain, menopause, integrating play into our lives and of course some laughs 😉

What a great way to connect fitness professionals and physiotherapists (and of course other health professionals) together. Too bad I missed it and was woken up at 4:30am to open birthday gifts for a big 7 year old boy 😉 😉

Future podcast ideas are discussed but as always, don't forget to send your questions or topics into either Antony or myself, as well as subscribe to the podcast and leave us a review in iTunes.

Enjoy!

Lori

The episdoes are available in iTunes, Stitcher and Soundcloud (click on the underlined word and you will be taken to where you need to be)

Links and people - If they are not listed, check out the WH&F page.

(click on them to be directed to that link, if underlined):

Women's Health & Fitness Summit

Robyn Kerr - Integrated Pelvic Physiotherapy

Gareth Houley - OD on Movement

Dragons Abreast Festival Fundraising - Christy Collier

Heba Shaheed - The Pelvic Expert