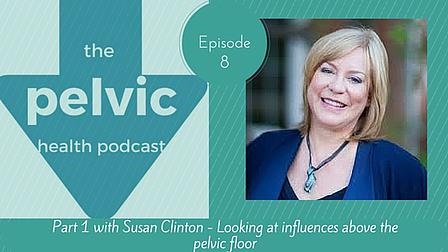 Episode 8 – Susan Clinton on The Pelvic Health Podcast – Looking At Influences Above The Pelvic Floor – Part 1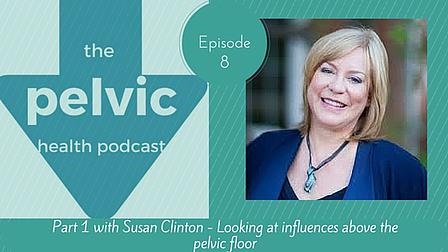 Susan Coel Clinton joins us on this episode of The Pelvic Health Podcast. In this episode, we hear about how she ended up in Pennsylvania, and how the neck and thorax affect the pelvic floor. We are talking the glottis, intrathoracic pressure, Intraabdominal pressure, the role of the autonomic nervous system, posture...sooooo much material we had to cut this podcast into 2!!!
Below the podcast is the description Lori has provided...make sure you subscribe to the podcast on iTunes or Soundcloud or Stitcher.
Use the contact form on this page to let us know what topics you would like to hear more on please!
The following text was written by Lori Forner and can be found here
Did I say the pelvic floor has something to do with your neck and throat? Crazy talk? No. You have to listen to this. It is not airy fairy crap. This info is my ultimate musculoskeletal-women's health combination I think everyone needs to hear.

Susan Clinton, DPT, woke up bright and early in Pittsburgh, Pennsylvania to join Antony and I in Australia. Whilst she drank caffeine, I had red wine. We had such good time, we had to break this podcast up into two parts!

Susan discusses her background in neurological physiotherapy, musculoskeletal physiotherapy, how she got into pelvic floor work and how she combined them all to drop knowledge bombs.

We delve into the diaphragm, the glottis, intra-abdominal pressure, breathing, swallowing, vagus nerve, trigeminal alarm system, pelvic pain and how forward head posture and cervicothoracic stiffness affect the pelvic floor.

Woah.

Future podcast ideas are discussed but as always, don't forget to send your questions or topics into either Antony or myself, as well as subscribe to the podcast and leave us a review in iTunes.

Enjoy!

Lori

The episdoes are available in iTunes, Stitcher and Soundcloud (click on the underlined word and you will be taken to where you need to be)

Links or people mentioned in the show (click on them to be directed to that link):

Susan Clinton - Embody Physiotherapy & Wellness