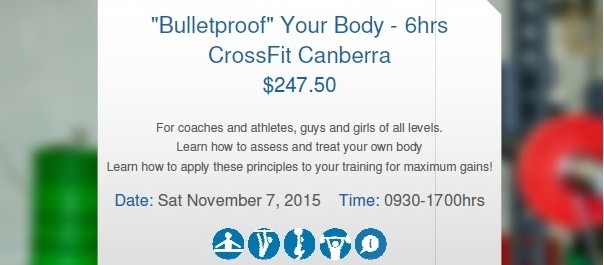 Bulletproof Your Body – 6hrs – Canberra – Sat Nov 7, 2015

How to "Bulletproof" Your Body - 0930-1700hrs
(Seminar is from 10am - 5pm)
 $330 (incl GST) - early bird discounts of up to 20% - book now!!
CrossFit Canberra
21/151-155 Gladstone St,
Fyshwick, ACT, 2609

What Is This Seminar About?
This seminar is about your Body...by the end of it, you will be much more aware of how to work these areas, strengthen and protect them!
Why Should I Come?
You want to come to this seminar because you know you should spend your precious spare time working on your weaknesses.
You want to know how to develop the strength and control you need to ensure you minimize the risk of injury as much as possible.You will have to stretch some muscles and joints.
You will have to strengthen your muscles.
You will need good control of your joints...but how do you know which ones to do? You don't have time to do them all - so which ones need work? This seminar is designed to answer that for you - how to identify your weaknesses, how to prioritize your accessory/rehab/remedial work and how to move more optimally.
The beauty of this particular seminar is that we will make you examine your beliefs...and once they have be proven by fire or lie in tatters, we will show you the most effective way for you to develop the control and mastery over back and hips so you can progress towards your CrossFit (or any other) goals.
Who is this for?
Anyone and everyone who does exercise, particularly for CrossFit Athletes and coaches
All health and fitness professionals are welcome (Physios, Chiros, Osteos, Massage Therapists, Personal Trainers, Coaches, etc)
What will I learn?
How you and your health professional and coach should consider your body - as a well-oiled machine!
Self-assessment for performance
Mobility - what is it, why is it important and how do I get it?!
Flexibility - what is it, why is it imporant and how do I combine it with mobility?
Stability - what is it, why is it important and how do I combine it with mobility and Flexibility?
Dissociation - what is it, why is it important and how does it relate to what I need to do in CrossFit?
Injury prevention principles
Exercises and drills on how to improve your mobility and stability for your back and hips
How to plan your own rehab path with your health professional
How to train with an injury and progress back to normal function
How to overcome performance plateaus - breaking through to new Personal Bests/Records!
Antony's thoughts, observations and experiences in treating elite athletes over the course of his career and how that applies to your training.
Book Seminar Here:
Appointments - Book now!
What is different to other seminars?
In this seminar, Antony will be outlining how you as an athlete, coach or health professional can assess and take action for your body - the more you understand about yourself and how your body works, the better able you are to take care of yourself and others.
In other seminars, they show you how to do "core" exercises to protect your back...
...this seminar includes the "why", the "how", as well as the principles of rehabilitation that Antony uses - the key difference is RESULTS - we can prove our way works!
Antony is only interested in solutions that work. We believe that for most things, you can tell after just 30secs whether something will help or not...we will show you how.
Book Seminar Here:
Appointments - Book now!
What is included?
6 hrs of information and practical instruction (10am to 5pm with 1hr break)
A colour handout with pictures and room for notes and a pen
The WODs are optional and can be scaled but we strongly suggest that everyone takes part in it as we look for how people move
1hr break
Lots of practical information - come prepared to exercise and sweat a bit!
How much does this all cost?
$247.50 incl GST
What else is on offer?
30mins and 60mins assessment with Antony: $90 and $180 - limited spots so book in as soon as possible - Click on the "Appointments" Tab to make a booking. Be sure to choose the "Canberra" options. For more information, please visit www.physiodetective.com/bookings
Spikey ball: $20 (please message me)
Lacrosse ball: $7.50 (please message me)
Foam Rollers: $30 (please message me)
EZR: $45 - Find out more about The EZR (please message me)
Please arrive at 9.30am to allow for time to register and prepare for the seminar
Book Seminar Here:
Appointments - Book now!
About CrossFit Canberra
CrossFit Canberra is a friendly, family owned gym that provides individual and group fitness classes in two fantastic locations, Mitchell and Fyshwick. At CrossFit Canberra, we consider ourselves one big family with a community focused attitude towards training. We cater to a variety of fitness levels from beginners just starting out in the fitness world, through to experienced athletes who are looking for that extra edge in their training.We incorporate a variety of functional movements into our daily programming to give you skills across multiple physical domains to achieve a well-rounded and inclusive style of fitness. Our programming includes a large variety of different training methods including but not limited to Olympic weightlifting, powerlifting, gymnastics, kettlebell training, running, rowing, swimming, strongman and military style training.The goal is to maximise your General Physical Preparedness measured across 10 general physical domains defined by CrossFit – cardio respiratory endurance, stamina, strength, flexibility, power, speed, co-ordination, agility, balance and accuracy.Put simply, our aim is to get you to be the best physical version of yourself in order to tackle whatever life throws at you! Whether that includes making day-to-day tasks easier, training for specific occupational requirements, or competing in your chosen sport.
Regardless of your current fitness level, CrossFit Canberra is for everyone. We tailor our program to you, by following three simple principles:
 Mechanics: be brilliant at the basics, you always need to walk before you can run.
 Consistency: once you have the basics down pat we increase the number of reps performed over time till you can do a particular movement in your sleep.
 Intensity: once you have got 1 &2 covered, we ramp up the volume and start doing things at speed to produce power – which equals results!
If you are ready to get started or simply want to have a chat with us to find out more, click to contact us.
You can also: meet the CrossFit Canberra team.
Fitness in 100 words:
 "Eat meat and vegetables, nuts and seeds, some fruit, little starch and no sugar. Keep intake to levels that will support exercise but not body fat. Practice and train major lifts: Deadlift, clean, squat, presses, C&J, and snatch. Similarly, master the basics of gymnastics: pull-ups, dips, rope climb, push-ups, sit-ups, presses to handstand, pirouettes, flips, splits, and holds. Bike, run, swim, row, etc, hard and fast. Five or six days per week mix these elements in as many combinations and patterns as creativity will allow. Routine is the enemy. Keep workouts short and intense. Regularly learn and play new sports."
 – Greg Glassman, Founder of CrossFit Inc.
_____________________
Important Information For the Seminar:
1. There is assumed knowledge - this you tube video is the first 40mins of my old seminars - if you can watch it (a slide show presentation), it will be helpful. I am working on improving it to make it easier to watch in the future 🙂
http://youtu.be/n3a3naVTxIs
 - i have a longer version which you can get downloads for on the home page.
2. I will be available to see people that weekend. It is $90/30mins. You can book 30, 60 or 90mins with me. All bookings are through
www.physiodetective.com/bookings
- read it, go to the online diary and make yourself a login. Then just choose the options with "Canberra" and go from there.
3. There may be a WOD at 8am to start the seminar. Whilst this is optional, I do recommend that you come to do it because it will let us see how you move and we can begin to pick out the people who will be good models!
4. Please be prepared to be observed. That usually means guys will often have to take their shirt off or at least wear a singlet and shorts. Girls, if you could wear a crop top or singlet with shorts, that would be great - ideally not a bra that covers the spine between your shoulder blades please. Observing other people is the best way to learn...having said that, we won't force anyone to do anything they are not comfortable doing.
5. Lunch will NOT be provided. Please bring any snacks, drinks or supplements you need - there will be breaks during the seminar. Lunch will be from 12pm.
6. A set of colour notes will be provided and there should be pens for everyone. Please come prepared to write notes...there is a lot of information to digest and we have found that writing down the cues that worked for you is a good way of learning and working on your own plan
7. Whilst the seminar strives to address your issues, it does so in a general way. We will do our best to help you with your problems but ultimately, we can't go into as much detail as a full assessment - please be understanding about that.
8. Participation is the best way to learn. I will be calling for volunteers regularly so please be ready! I usually try to ask everyone to volunteer
9. We will be taking photos and videos during the seminar. If you do not want to be photographed or videoed, please let us know. We plan to use these to help promote future seminars and educate people via my blog. Please be assured that I don't ever ridicule people or their form but often phrase it as "Here is John Smith demonstrating "
10. If you have any dietary needs, please let me know by emailing me at antonylo@myphysios.com.au.
11. If you have any further questions, please don't hesitate to contact me at antonylo@myphysios.com.au  or SMS me at 0410 440 506
12. Please like our social media...
Facebook: www.facebook.com/physiodetective
Instagram: www.instagram.com/physiodetective
Twitter: www.twitter.com/physiodetective
Linkedin: www.linkedin.com/in/antonylo
Tumblr: www.physiodetective.tumblr.com
YouTube: https://www.youtube.com/user/ThePhysioDetective
Thanks!