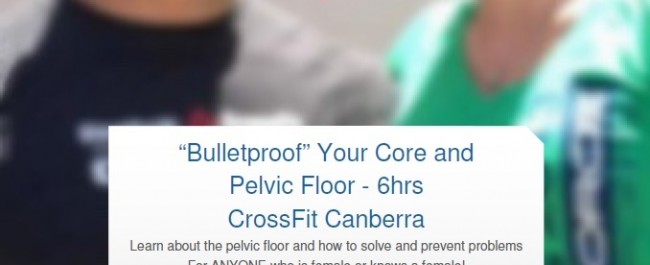 "Bulletproof" Your Core and Pelvic Floor – CrossFit East Tamaki, Auckland, NZ – 21/11/2015
How to "Bulletproof" Your Core and Pelvic Floor - 12pm - 5:30pm (seminar is from 12.30pm-5.30pm)
***PAY WHAT YOU CHOOSE***
CrossFit East Tamaki
5 Nandina Ave,
East Tamaki, Auckland 2013,
New Zealand
Book Seminar Here:
Appointments - Book now!
Firstly, we want to point out that it is RARE that we tell someone they have to stop training for anything!

This seminar is about how to protect your core and pelvic floor, especially if you are a woman!
We have seen and helped women who have had babies and those who haven't - this problem is not well known because it is socially awkward but wee need to educate everyone - female athletes, their coaches and males too!
You want to come to this seminar because you know you should spend your precious spare time working on your weaknesses. You want to know how to develop the strength and control you need to ensure you minimize the risk of injury as much as possible. You want to know WHAT TO DO if you have a prolapse or stress urinary incontinence.
There will be A LOT of educational material here...but in the end, it is about how to exercise and choose options safely.
The beauty of this particular seminar is that we will make you examine your beliefs...and once they have be proven by fire (testing) or lie in tatters, we will show you the most effective way for you to develop the control and mastery over your core and pelvic floor so you can progress towards your CrossFit (or any other) goals.
Who is this for?
Anyone and everyone who does exercise, particularly for CrossFit Athletes and coaches
All health and fitness professionals are welcome (Physios, Chiros, Osteos, Massage Therapists, Personal Trainers, Coaches, etc)
ANYONE who wants to learn more about core stability and the pelvic floor, exercising with prolapse and stress urinary incontinence
Book Seminar Here:
Appointments - Book now!

What will I learn?
The role of the pelvic floor in the body
The "core stability" muscles of the trunk
The issues women face with Pelvic Floor Dysfunction (PFD)
Pelvic organ prolapse (POP)
Stress Urinary Incontinence (SUI)
How to train someone with PFD/POP/SUI
A graded exercise program from very light and gentle contractions to heavy weights
The risks and benefits of exercise
Some myth busting about what you should and shouldn't do...
Book Seminar Here:
Appointments - Book now!
What is different to other seminars?
In this seminar, Bernadette and Antony will be outlining how you as an athlete, coach or health professional can assess and take action for your core and pelvic floor - the more you understand about yourself and how your upper body works, the better able you are to take care of yourself and others.
In other seminars, they show you how to do "core and pelvic floor" exercises to protect your back...
...this seminar includes the "why", the "how", as well as the principles of rehabilitation that Antony uses - the key difference is RESULTS - we can prove our way works, often immediately!
Antony and his team are only interested in solutions that work. We believe that for most things, you can tell after just 30secs whether something will help or not...we will show you how.
Book Seminar Here:
Appointments - Book now!
What is included?
4 hrs of information and practical instruction (12pm registration, 12.30pm to 5.30pm with short breaks)
A colour handout with pictures and room for notes and a pen
Lots of practical information - come prepared to exercise and sweat a bit!
How much does this all cost?
What else is on offer?
30mins and 60mins assessment with Antony: AUD$90 and AUD$180 - limited spots so book in as soon as possible - Click on the "Appointments" Tab to make a booking. Be sure to choose the CF East Tamaki options. For more information, please visit www.physiodetective.com/bookings
Spikey ball: $20
Lacrosse ball: $7.50
Foam Rollers: $30
EZR: $45 - Find out more about The EZR at www.theezr.com - Limited stock will be brought to the seminar
Please arrive at 12pm to allow for time to register and prepare for the seminar
Book Seminar Here:
Appointments - Book now!
***IMPORTANT TO GUARANTEE YOUR BOOKING***
Thank you for choosing to attend this seminar.
To confirm your booking, please do the following
1. Go to www.gofundme.com/BYBPelvicFloor
2. Donate the amount you wish to pay
3. Your place will be confirmed by email - thank you!!
About Bernadette Nolan
Brought up in Ireland, Bernadette qualified in 2001 with a BSc in Physiotherapy from Keele University, UK
She started her working career at a large teaching hospital in Leeds, where she developed a passion for pelvic floor physiotherapy gaining valuable experience and a solid grounding in musculoskeletal therapy.
She moved to New Zealand 9 years ago after a brief holiday captivated her.
And over the last few years she has developed specialist skills in the treatment of women's health problems through post-graduate training, courses and conferences. Her rehabilitation focuses on empowering women aiming to reduce symptoms and improve their quality of life. In recent years she has undertaken an interest in treating men with pelvic floor concerns.
Bernadette is currently employed as a Specialist Pelvic Floor Physiotherapist for Counties Manukau District Health Board and works privately at Ascot Central Urogynaecology clinic rooms and at Total Rehab Physiotherapy in Botany, treating a varied and complex caseload of patients with bowel, bladder and pain disorders as well as sexual dysfunction.
Bernadette is a member of the national physiotherapy pelvic, women's and men's health special interest group and has established close working links with local Gynaecologists, Urologists, GP's, midwives, and Obstetricians.
Bernadette is passionate about her work and offers a professional and individual approach to managing your condition. She is keen to help guide and educate clients about their bodies, lifestyle and emotional well-being.
She strives to help clients regain their physical and emotional strength, through education, exercise and therapeutic care. She is passionate about raising awareness of pelvic floor health and well-being for all stages of life.
About CrossFit East Tamaki
CrossFit East Tamaki is one of the largest facilities in New Zealand located in Body Business The Gym. This means when you are a full member of CrossFit East Tamaki you can have full access to the gym facilities outside of the class schedule. 
CrossFit East Tamaki is run by Coaches Callum Gifford and Zak Nothling both with international sporting history and extensive fitness industry experience (combined over 15 Years)
Callum and Zak are dedicated to providing top level coaching and athletic development for all levels of fitness and abilities. This is achieved though maintaining a coach to athlete ratio of approximately 1:6.
.
Important Information For the Seminar:
1. There is assumed knowledge - this you tube video is the first 40mins of my old seminars - if you can watch it (a slide show presentation), it will be helpful. I am working on improving it to make it easier to watch in the future 🙂
http://youtu.be/n3a3naVTxIs
 - i have a longer version which you can get downloads for on the home page.
2. I will be available to see people that weekend. It is $90/30mins. You can book 30, 60 or 90mins with me. All bookings are through
www.physiodetective.com/bookings
- read it, go to the online diary and make yourself a login. Then just choose the option with "CF East Tamaki" and go from there.
3. There may be a WOD at 8am to start the seminar. Whilst this is optional, I do recommend that you come to do it because it will let us see how you move and we can begin to pick out the people who will be good models!
4. Please be prepared to be observed. That usually means guys will often have to take their shirt off or at least wear a singlet and shorts. Girls, if you could wear a crop top or singlet with shorts, that would be great - ideally not a bra that covers the spine between your shoulder blades please. Observing other people is the best way to learn...having said that, we won't force anyone to do anything they are not comfortable doing.
5. Lunch will NOT be provided. Please bring any snacks, drinks or supplements you need - there will be breaks during the seminar.
6. A set of colour notes will be provided and there should be pens for everyone. Please come prepared to write notes...there is a lot of information to digest and we have found that writing down the cues that worked for you is a good way of learning and working on your own plan
7. Whilst the seminar strives to address your issues, it does so in a general way. We will do our best to help you with your problems but ultimately, we can't go into as much detail as a full assessment - please be understanding about that.
8. Participation is the best way to learn. I will be calling for volunteers regularly so please be ready! I usually try to ask everyone to volunteer
9. We will be taking photos and videos during the seminar. If you do not want to be photographed or videoed, please let us know. We plan to use these to help promote future seminars and educate people via my blog. Please be assured that I don't ever ridicule people or their form but often phrase it as "Here is John Smith demonstrating "
10. If you have any dietary needs, please let me know by emailing me at antonylo@myphysios.com.au.
11. If you have any further questions, please don't hesitate to contact me at antonylo@myphysios.com.au  or SMS me at 0410 440 506
12. Please like our social media...
Facebook: www.facebook.com/physiodetective
Instagram: www.instagram.com/physiodetective
Twitter: www.twitter.com/physiodetective
Linkedin: www.linkedin.com/in/antonylo
Tumblr: www.physiodetective.tumblr.com
YouTube: https://www.youtube.com/user/ThePhysioDetective
Thanks!