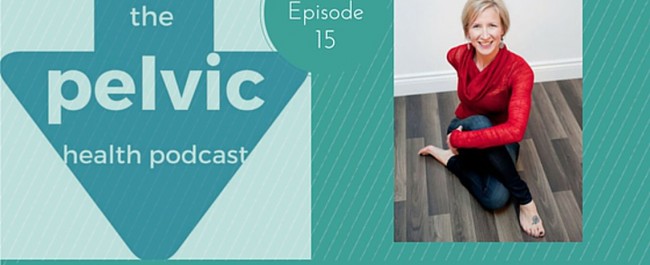 Episode 15 – Shelly Prosko on The Pelvic Health Podcast – Medical Therapeutic Yoga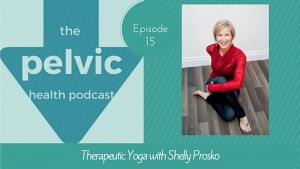 We are joined by the wonderful Shelly Prosko who is in Alberta Canada and scoots around north america teaching. During this discussion with Lori Forner and I, we delve into what is Medical Therapeutic Yoga...
...Lori and I were interested in how Yoga can help pelvic pain but the conversation was so interesting we just kept rolling with it (Have a listen to Episode 20 for a more specific Pelvic Pain focused podcast with Shelly).
So sit back and enjoy the podcast - please leave your comments or questions below as Shelly herself will answer any questions you have.
Below the podcast is the description Lori has provided...make sure you subscribe to The Pelvic Health Podcast on iTunes or Soundcloud or Stitcher.
Use the contact form on this page to let us know what topics you would like to hear more on please!
The following text was written by Lori Forner and can be found here
OH CANADA, OUR HOME AND NATIVE LAND....

Yes, Shelly Prosko is Canadian (and if you don't know by now, so am I!). She is also a physiotherapist, professional yoga therapist and certified pilates instructor with a great pack of resources and a love for chronic pain.

She joined Antony and I to discuss yoga in pelvic pain, however we were so intrigued in her Medical Therapeutic Yoga training and lots of little tidbits of practical and interesting information, we didn't even skim past the surface of pelvic pain...stay tuned in 2016!

In this episode, Shelly not only shares how yoga can be an integral part of physiotherapy, she also gets into toilet meditation. Yes. I said that. Toilet. Meditation. Everyone should be doing it!

Lots of clinical pearls in this one, in particular regarding yoga with pain.

Now if you have not subscribed to the podcast yet, you may be confused at this episode being #15 AND you come late to the game!

We have started Tib Bit Tuesdays (TBT), which are less than 10 minute episodes on a variety of topics and practical tips.

The podcasts also are aired a couple of days before I put these blog pieces out, so those who subcribe hear first! 🙂

The episdoes are available in iTunes, Stitcher and Soundcloud (click on the underlined word and you will be taken to where you need to be)

Future podcast ideas are discussed but as always, don't forget to send your questions or topics into either Antony or myself, as well as subscribe to the podcast and leave us a review in iTunes.

Enjoy!

Lori

Info/links mentioned in podcast:

Shelly Prosko at PhysioYoga.ca

Email for Shelly: proskoyoga@gmail.com

Tedx Talk with Shelly and other videos

Toilet Meditation and other links to her YouTube videos

Medical Therapeutic Yoga with Ginger Garner

Professional Yoga Therapy Institute

Dustienne Miller - Your Pace Yoga