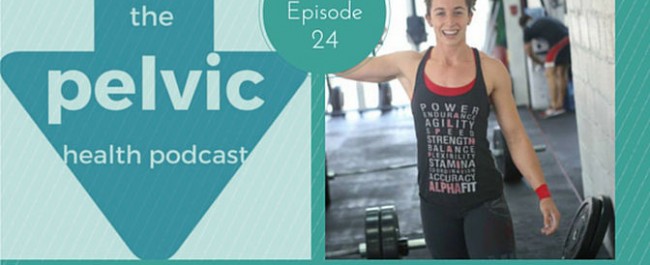 Episode 24 – Stacey Harris on CrossFit Basics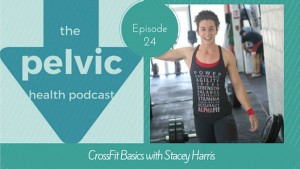 On this episode of The Pelvic Health Podcast, we are joined by Stacey Harris, a CrossFit Level 3 Trainer, Dietitian and co-owner of The Chief Life.
Stacey is one of the instructors who educated me when I did my CrossFit Level 1 certification and I was impressed by her dedication to pure technique, safety and educating people about "Mechanics, Consistency, Intensity".
Therefore, it was great to have Stacey on the show to discuss the basics of CrossFit and hopefully we can delve deeper into the topics affecting Pelvic Health in the future!
Anyway, sit back and enjoy the podcast - please leave your comments or questions below as Stacey herself will answer any questions you have.
Make sure you subscribe to The Pelvic Health Podcast on iTunes or Soundcloud or Stitcher.
Use the contact form on this page to let us know what topics you would like to hear more on please!
Below the podcast are Lori's blog notes from here...
Stacey Harris is a Brisbane based Dietician, Level 3 CrossFit Trainer and co-founder of The Chief Life. Actually, she has a big list of other qualifications, such as a Cert 3 and 4 in Personal Training and Fitness, and you can find them all here!

We wanted to talk to her about a whole heap of things but decided to keep it simple in this podcast and have her discuss the basics about CrossFit. What is it exactly? Who can do it? What is the training like for trainers? And of course being a podcast on pelvic health, do they learn about pelvic floor?

Stacey is passionate about learning as much as she can do better her clients and herself. I love it when someone in her shoes accepts and strives to learn more about the pelvic floor. There needs to be more Staceys out there.

Stacey also touched briefly on her new venture into The Chief Life, online, individualized meal plan and training programs. We couldn't get into too much juicy detail but now that she has entered the podcasting world, you can find out more about it on her podcast The Chief Life.

The episdoes are available in iTunes, Stitcher and Soundcloud (click on the underlined word and you will be taken to where you need to be)

Future podcast ideas are discussed but as always, don't forget to send your questions or topics into either Antony or myself, as well as subscribe to the podcast and leave us a review in iTunes.

Enjoy!

Lori

Links: