Episode 25 – Sandy Hilton and Sarah Haag on Men's Health Issues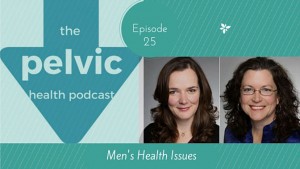 On this episode of The Pelvic Health Podcast, we are joined again by Sandy Hilton and Sarah Haag to discuss Men's health issues.
Men's health issues are a significant problem and often not discussed despite how prevalent they are.
Much can be done for men's health issues...men need to know about this so something can be done about it!
Anyway, sit back and enjoy the podcast - please leave your comments or questions below as Sandy and Sarah themselves will answer any questions you have.
Make sure you subscribe to The Pelvic Health Podcast on iTunes or Soundcloud or Stitcher.
Use the contact form on this page to let us know what topics you would like to hear more on please!
Below the podcast are Lori's blog notes from here...
If you have been following our podcasts, including the TBTs (TidBit Tuesdays mini episodes), you will have noticed these girls seem to always be on! I love them so much, I was very close to asking Antony to change the name to The Entropy Pelvic Health Podcast.

Sarah Haag and Sandy Hilton join us to talk comfortably and openly about Men's Health issues that physiotherapy can help with.

Join us for lots of laughs (not about the issues) , wine and of course serious information about conditions such as incontinence, prostate conditions, and pelvic pain.

Enjoy!

Lori

Don't forget to send your questions or topics into either Antony or myself, as well as subscribe to the podcast and leave us a review in iTunes (I will link that to make it easier in the near future).

The episdoes are available in iTunes, Stitcher and Soundcloud (click on the underlined word and you will be taken to where you need to be)

Links mentioned in the show (click on them to be directed to that link):

Entropy Physio Facebook page for clinic info and for continuing education info

APA presents Male Pelvic Floor, Continence and Prostate Surgery 1 Day course 

Male Pelvic Floor Workshop with Pauline Chiarelli