Episode 27 – Mary Wood and Traci Belyk on Hypopressives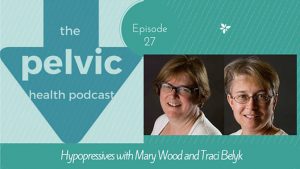 On this episode of The Pelvic Health Podcast, we are joined by Mary Wood and Traci Belyk to discuss Hypopressives.
Hypopressives are a controversial topic because of the claims made by some who practice it. We thought we would start by asking some physiotherapists who are well-regarded to try sort the fact from fiction.
Anyway, sit back and enjoy the podcast - please leave your comments or questions below as Sandy and Sarah themselves will answer any questions you have.
Make sure you subscribe to The Pelvic Health Podcast on iTunes or Soundcloud or Stitcher.
Use the contact form on this page to let us know what topics you would like to hear more on please!
Below the podcast are Lori's blog notes from here...
There has been much controversy over a relatively new type of exercise used to help women with pelvic organ prolapse and stress urinary incontinence.

Hypopressives are exercises attempting to reduce intra-abdominal and intra-pelvic pressures, in so attempting to help reduce pressure onto the pelvic structures at fault in some pelvic floor dysfunctions.

They look strange, it all sounds strange and there is little research (however this is currently ongoing). Much of the difficulty lies within interpreting the Brazilian and French roots. Yet, those who use it with their patients or clients report remarkable results. How? Why?

Mary Wood and Traci Belyk are two physiotherapists in Canada whom bravely agreed to talk to Antony (all by his lonesome) about this form of exercise. They don't claim to know the exact physiology behind it but they give us a good background on what they are, how they may work, who they are good for and where to find more information.

Spoiler alert - they are not just about holding your breath!

Enjoy!

Lori

Don't forget to send your questions or topics into either Antony or myself, as well as subscribe to the podcast and leave us a review in iTunes (I will link that to make it easier in the near future).

The episdoes are available in iTunes, Stitcher and Soundcloud (click on the underlined word and you will be taken to where you need to be)

Links mentioned in the show (click on them to be directed to that link):

2013 IUGA presentation with all the research cited by Maura Regina Seleme - PT, PhD BRASIL