Episode 28 – Julie Wiebe – "Chit Chat"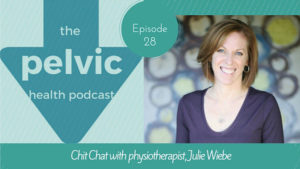 On this episode of The Pelvic Health Podcast, we are joined by Julie Wiebe to discuss all sorts of topics in that nexus where Sports, Musculoskeletal and Women's Health meet.
Like Antony, Julie has been working with women for quite some time but doesn't do internal examinations.
Anyway, sit back and enjoy the podcast - please leave your comments or questions below as Julie herself will answer any questions you have.
Make sure you subscribe to The Pelvic Health Podcast on iTunes or Soundcloud or Stitcher.
Use the contact form on this page to let us know what topics you would like to hear more on please!
Below the podcast are Lori's blog notes from here...
Julie Wiebe, sports and women's health physiotherapist, finally joins Antony and I to chat about anything and everything. From the world of sport physiotherapy to women's health, her struggles to unite them along the way, our Paul Hodges #nerdcrush, to tidbits on leaking in double unders.

Julie opened up my eyes years ago to the pelvic floor's connection to other parts of the body, the importance of alignment and the intimate connection of the diaphragm. Her online webinars, and now a full course online, highlight her revolutionary, external approach to integrating the pelvic floor into the whole person.

Join us for a candid and light-hearted chat.

Enjoy!

Lori

Don't forget to send your questions or topics into either Antony or myself, as well as subscribe to the podcast and leave us a review in iTunes (I will link that to make it easier in the near future).

The episdoes are available in iTunes, Stitcher and Soundcloud (click on the underlined word and you will be taken to where you need to be)

Links mentioned in the show (click on them to be directed to that link):