Episode 29-31 – Diane Lee Is Not A Dinosaur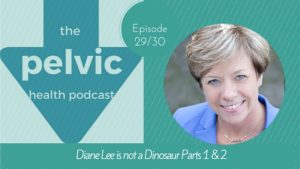 On this episode of The Pelvic Health Podcast, we are joined by Sarah Haag from Entropy Physiotherapy in Chicago and Diane Lee in Vancouver as we discuss some of the claims made by Adam Meakins on social media that someone like Diane Lee is a Dinosaur. This is a 3 part podcast which is why there are 3 episodes listed!
Anyway, sit back and enjoy the podcast - please leave your comments or questions below as Diane herself will answer any questions you have.
Make sure you subscribe to The Pelvic Health Podcast on iTunes or Soundcloud or Stitcher.
Use the contact form on this page to let us know what topics you would like to hear more on please!
Below the podcast are Lori's blog notes from here...
Antony co-hosts with Sarah Haag from Entropy Physio to chat with Diane Lee, Canadian physiotherapist, author, publisher and educator.

It all started after a physio from the UK, Adam Meakins, posted an article he wrote discussing "dinosaur" physios. (Click on the underlined word to be brought to the article). From here, three podcasts has come out of it, as well as a lot of banter on FB (not all of it nice).

To be honest, I see both sides and like to watch debates rather than participate. Especially when things get a little feisty. But I do believe we should challenge what we hear and what we think we know. Greg Lehman, another physio in Canada, just recently wrote what I thought was a great response/challenge to the ideas and thoughts Diane proposed...without attacking her as a person. I think this is a fine line

Recap:

During episode 29, Diane explains her take on the "biological" in the "biopsychosocial model", the origins and utility of Integrated Systems Model, and the ideas of the thoracic rings, vector analysis and other confusing (but fun to others) stuff. *Note, I have no idea how this one episode disappeared from iTunes...I am working on it. The other links below still work.

Antony and Sarah chime in during episode 30 and there is a part 3 (episode 31) to tie it all in. Thanks to Diane for her time!

I hope you enjoy the discussions. I think ideas need to be challenged and I think everyone is trying to do the same thing (help people) but in different ways. Whatever works.

Lori

Don't forget to send your questions or topics into either Antony or myself, as well as subscribe to the podcast and leave us a review in iTunes (I will link that to make it easier in the near future).

The episdoes are available in iTunes, Stitcher and Soundcloud (click on the underlined word and you will be taken to where you need to be)

Links mentioned in the show (click on them to be directed to that link):

Diane Lee
Adam Meakins
Greg Lehman