Episode 32 – Catherine Willis on Boobs!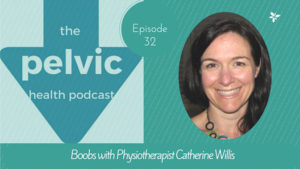 On this episode of The Pelvic Health Podcast, Lori speaks with Catherine Willis on the topic of boobs - breast dysfunction and mastitis. I was unable to make the podcast but have a listen to the great information provided by Catherine.
Anyway, sit back and enjoy the podcast - please leave your comments or questions below as Catherine herself will answer any questions you have.
Make sure you subscribe to The Pelvic Health Podcast on iTunes or Soundcloud or Stitcher.
You can also find us on Facebook, Instagram and Twitter so be sure to subscribe there and ask any questions you want answers to.
Use the contact form on this page to let us know what topics you would like to hear more on please!
Below the podcast are Lori's blog notes from here...
I totally messed up this blog post! It was brilliant, describing this episode with Cath. Now you will just have to listen to her amazing info on mastitis and boob dysfunctions with me. She is amazing!

Enjoy!

Lori

Don't forget to send your questions or topics into either Antony or myself, as well as subscribe to the podcast and leave us a review in iTunes (I will link that to make it easier in the near future).

The episdoes are available in iTunes, Stitcher and Soundcloud (click on the underlined word and you will be taken to where you need to be)

Links mentioned in the show (click on them to be directed to that link):