Episode 33 – Isa Herrera on Alternative Treatments For Ending Pelvic Pain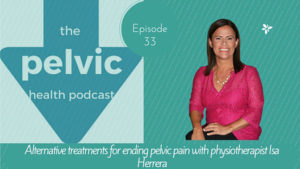 On this episode of The Pelvic Health Podcast, Antony and Lori are joined by Isa Herrera from NYC on the topic of alternative treatments for ending Pelvic Pain. It is a challenging podcast because some of what Isa describes is certainly not supported by the mainstream, evidence-based physical therapy world. Yet Isa is a fantastic and caring therapist who really is helping people get out of pelvic pain. Challenging our beliefs means listening to those who are getting successful results and considering their points of view...yet reserving the right to disagree with the reasons why we think it works. Isa is an intelligent women on a mission to help women in pelvic pain which is why we love her!
Anyway, sit back and enjoy the podcast - please leave your comments or questions below as Isa herself will answer any questions you have.
Make sure you subscribe to The Pelvic Health Podcast on iTunes or Soundcloud or Stitcher.
You can also find us on Facebook, Instagram and Twitter so be sure to subscribe there and ask any questions you want answers to.
Use the contact form on this page to let us know what topics you would like to hear more on please!
Below the podcast are Lori's blog notes from here...
Antony and I are back in the same audio file this time speaking with physiotherapist Isa Herrera (roll the "r"s). She is the Clinical Director of Renew PT, Certified Maya Abdominal Massage Specialist, Reiki Medicine Practitioner, and the author of some great books: Ending Female Pain, Ending Male Pelvic Pain, Ending Pain in Pregnancy and The Pregnant Couple's Guide to Working Out Together.

Isa has a passion for treating pelvic pain and in this episode we discuss some of the biological methods she uses for treatment. Yes, some of them are "alternative" but as we discuss, different things work for different people. Evidence-base treatment is what we as practitioners pride ourselves on, but as Isa so eloquently puts it, sometimes the evidence is on the table...literally.

From cold laser therapy, to pelvic floor relaxation cues, to sound healing, and to vaginal steams, Isa shares with us some interesting modalities to help patients suffering with pelvic pain.

Enjoy!

Lori

Don't forget to send your questions or topics into either Antony or myself, as well as subscribe to the podcast and leave us a review in iTunes (I will link that to make it easier in the near future).

The episdoes are available in iTunes, Stitcher and Soundcloud (click on the underlined word and you will be taken to where you need to be)

Links mentioned in the show (click on them to be directed to that link):

Free ebook for our listeners!
Renew PT
Pelvic Pain Relief -  online learning for professionals and empowered healing for patients